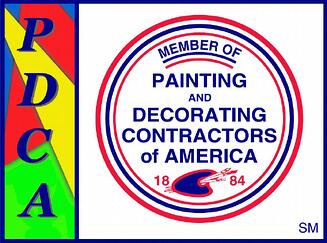 You'd be hard-pressed to find many homeowners who've ever even heard of the PDCA, even those that have hired a painting contractor in the past. If you do a Google search on it you might learn that PDCA is an acronym for a type of management style used in the business world (Plan-Do-Check-Act), but that's not the PDCA I'm referring to.
This article was written to discuss the important part that the Painting and Decorating Contractors of America plays in setting the standard for the way work should be done in the painting industry. This vital organization was founded in 1884 and continues to serve as the only trade association for the painting industry.
So why, if my house painter didn't care enough about the PDCA to tell me about it, should I give a hoot? Because the U.S. Bureau of Labor Statistics projects that the number of actively-employed painting and wallcovering contractors will increase by 38.5% during the 10-year period from 2010 to 2020 -- a 20% faster pace than the overall job market is anticipating during the same 10-year period.
On the surface that sounds like wonderful news for anyone seeking employment in the painting industry, but it confirms what anyone who has been in the painting industry for many years knows about the nature of this business. Professional Painting has become a haven for unskilled labor, recently unemployed construction workers, and anyone else who can hold a paint brush. Though the demand may be increasing for professional painters, the PDCA reports that across the country, the pool of qualified craftsmen and aspiring apprentices is scarce -- leaving the gap to be filled with workers who are just looking to make a quick buck.
Where Does The PDCA Fit-In In All Of This?
The problems in the painting world are created by the fact that painting is generally an unregulated industry, leaving the skill set of the professional painter to be seen as something that anyone can master -- even a DIY'er. As opposed to most other construction trades where training, licensing, and permits are all required before anyone can legally perform their services for a living, when it comes to painting...anything goes.
So the PDCA's mission is to preserve the once well-regarded reputation of the professional painting craftsman and to elevate the level of work being performed by those true professionals who are still among us. Membership to this association is available to any painting company who is willing to pay the small amount of annual membership dues and to hold themselves accountable to the PDCA's Code of Ethical Business Conduct.
But what is surprising is that out of the estimated 2.5 million painting contractors operating in the United States, less than 2,000 of them are members of the PDCA -- which might explain why the bar, and the perception of the industry, have been lowered to their current levels.
What Are The Benefits Of Hiring A PDCA Painting Contractor?
1.) PDCA Industry Standards
All members agree to abide by the PDCA Industry Standards. These standards have become the governing body of the industry and are often referred-to when settling legal issues between a contractor and a homeowner. Some contractors just choose to follow them from the get-go while others are forced to acknowledge them when they're workmanship is called into question during litigation.
The PDCA describes these guidelines like this:
"One of the most important functions of an association is to establish industry standards. Defining what constitutes the proper way of doing things and communicating those standards removes the 'veil of secrecy' that so often exists between an industry and the public. When the terms by which an industry's members communicate with the public and each other are clear to consumers, chances for confusion and disagreements are greatly reduced. PDCA seeks to make the painting and decorating industry less opaque both to those who work within it and to those who invest in its services. Standards cover a range of issues that often become the subject of misunderstandings or contract disputes and provide guidance for both the contractor and the layman."
The Standards cover a range of topics from what constitutes a properly painted surface, to the correct way to remove wallcovering prior to painting, to staining & clear-coating woodwork, and more.
2.) Best-In-Industry Skills Training
A company is only as good as the skills of its employees, and those skills are not acquired by mere chance. Good companies spend a lot of time training their employees to ensure that the quality of their work is consistent from job-to-job. The PDCA lays out advanced operating procedures that its members can use to train their workers to not just become painters, but master painting craftsmen.
That kind of quality is something that the vast majority of painting companies simply cannot replicate in their workforce without this guidance.
3.) Safety Training
You might not think that safety-training for painters is an area of concern but, in fact, painters contribute heavily to OSHA's most-frequently cited standard violations, including: ladder safety, fall protection, and respiratory protection.
PDCA contractors are significantly more likely as a group to be safety educated and trained, being that they have access to more safety-training resources through the association and have pledged to abide by those standards to protect their employees.
How this translates to the homeowner is that when safe work practices are observed there is a greatly-reduced chance for accidents and lost time on the job. Which means you won't have to worry about OSHA shutting down your project, or a worker of an illegitimate contractor suing you because they got hurt on your property.
4.) Continuing Education
The PDCA also holds regular continuing education classes for both administrative and field-level staff to keep its members informed about the most progressive and efficient means and materials, ensuring you will always get the greatest value for your money.
The truth of the matter is that a large portion of the painting industry leaves a lot to be desired from a professional trade standpoint. And a lot of painters certainly don't want you to know that there are still plenty of craftsmen out there who subscribe to the higher standards of the Painting and Decorating Contractors of America, because they simply don't want to be held to that level of accountability for the work that they do.
Without the PDCA we wouldn't have any benchmarks for how painting should be done. When your money is on the line, why should you have to settle for anything less than a company that cares as much about quality as you do.
If you'd like to find the PDCA painting professionals that serve your area, visit their Find-A-Painter website for a complete list.
If you're located in the Greater Pittsburgh or Western Pennsylvania areas and you'd like to request a free consultation and quote for your painting project please give us a call at 724-898-2446 or 412-835-2446, visit our Contact Us page, or click on the button below if you'd like us to contact you.
Leave Us a Comment
Contact the Pros
Ready to get started with your next painting project but unsure if it is in your budget? Reach out to the expert painting team at ImageWorks Painting to schedule a free consultation today. Give us a call at 813-570-8800 (Tampa) or 724-898-2446 (Pittsburgh), or request a visit online.