Concrete Polishing vs. Floor Coating - Which Is Right For You?
Steve Reutzel
Thu, Feb 23, 2017 @ 02:29 PM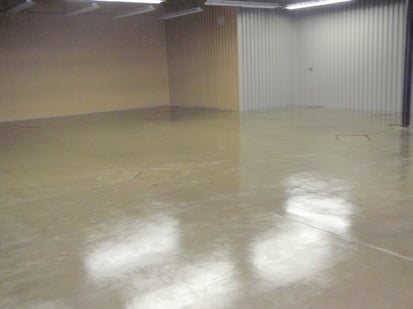 When consulting customers on concrete polishing and floor finishes, every meeting begins with an evaluation to determine what floor type, and then which system of that type will best meet the customer's needs.
Often I will enter a customer's facility after being contacted to provide a quote for a specific floor…. they want their concrete polished, or an "inexpensive floor coating" or a decorative coating…. But often what the customer is looking for is not the floor that best fits their needs. After viewing the condition of the floor, our conversation will cover an array of information gathering questions:
Questions To Ask Yourself
What type of service will the floor serve? Showroom, warehouse, production, aisle ways, garage, food service, etc?
What type of traffic will the floor be exposed to?
Is there a moisture barrier under the floor? Are there any moisture issues? (rH meter test)
Will there be any chemical exposure?
Will there be UV exposure?
Will the floor be exposed to thermal shock?
Does the floor need to be non-slip? Texture provides non-slip, but smoother is easier to clean. The two attributes of the floor are directly inversely proportionate.
Is the floor strictly for function, or is decorative/aesthetic value important? What is the customer looking to accomplish with the floor finish? Dust control and ease of cleaning? Protection of the concrete from impact, abrasion, or chemical attack? Aesthetic value for a sales area or showroom?
How long can the floor be out of service? Some systems can be turned around in a day, while others could take upwards of a week (in an area of the same size).
Are there any atmospheric/environmental aspects of the application that must be worked around? Excessively hot or cold ambient temperatures, surface temperature, moisture, humidity, etc.
All of these questions need to be answered to identify what general type of floor should be considered. Then, the ideal floor finish system needs to be compared to the final question, "what are the budget constraints?".
Hopefully the ideal floor is within the customer's budget, but often it is not. At that point, the customer should be informed of the benefits of the ideal system in meeting their needs, the price points of the system options below the ideal system, and there should be an understanding of what aspects of the ideal system will be given up with each of the system options that fit within their budget.
Once these understandings are achieved, the customer can make an informed choice between expanding the budget or choosing between trade-offs of different systems.
Some of the many floor finish systems that may be options for most customers are:
Concrete Staining – The main benefit of (most) concrete stains is that they may be used for exterior applications. They are suitable for beautifying exterior concrete in foot traffic only areas. With proper surface preparation, some concrete stains are suitable for driveway and light vehicle traffic applications.
Densify and Burnish – An inexpensive finish, generally for new concrete, generally suitable for warehouse floors.
Concrete Polishing to various levels of shine… 200 grit finish to 3000 grit finish. - A 200 grit finish is roughly what you would expect to see as the finish level in a big box store, a 3000 grit finish is so smooth it looks wet. The 200 keeps dust down and is easy to clean, the 3000 is a beautiful finish. Concrete stains may be used as part of the process to provide a variety of colors into the finish. It is helpful to start with concrete in good condition. Concrete polishing may be suitable in a variety of applications ranging from showroom floors to light duty commercial and industrial floors. Polished concrete is also used in high end residential applications.
Thin mil epoxies – inexpensive, if applied over an appropriately prepared floor thin mil epoxy systems will have acceptable durability for light duty floors (mainly foot traffic). In the right situation, they will provide a clean and consistent look.
Heavy Duty Epoxies – Also called Self-Leveling Epoxies (not always interchangeable). Heavy duty epoxy systems are commonly applied at 35-40 mils. With proper floor preparation, SL epoxy systems are extremely durable and can be used in relatively abusive environments. These systems can be made even more durable with the addition of urethane or polyaspartic topcoats with only a slight increase in system expense. The urethane and polyaspartic topcoats add abrasion resistance, chemical resistance, UV protection, stain resistance, and color fastness.
Slurries – Epoxy Slurry and Urethane Slurry systems are suitable for extreme duty floors.
Methyl Methacrylates – MMA systems are moderately durable systems that can be turned around in commercial applications amazingly quickly. They have extremely high odor levels and must be applied in well ventilated areas.
Polyaspartic Coatings – Polyaspartics exhibit exceptionally fast recoat and cure times, and have similar characteristics to urethanes as a finish coat over epoxy systems.
A side note on Polyaspartics -- Many floor coating contractors will apply pure polyaspartic systems… polyaspartic as the base coat, intermediate coat, and finish coat. At ImageWorks Painting, we generally (barring special circumstances) will not do this. Contractors who do this are doing it for the labor saving benefits of fast turnaround – a four day epoxy/urethane system is a one day polyaspartic system. Polyaspartics generally do not penetrate the prepared concrete as well as epoxies and do not bond as well to the floor.
Paint Fleck Floors / Paint Chip Floors – Paint fleck finishes are commonly applied in thin set epoxy systems (though not a good choice, ImageWorks will not do this), Self-Leveling epoxy systems, and polyaspartic systems. The paint fleck is generally a decorative finish, though it does add thickness to the floor system and some degree of improved impact resistance. The floors are often done inexpensively (with thin mil systems and poor surface prep), and invariable you get what you pay for.
Quartz Floors – a decorative quartz-sand broadcast system applied at 1/8-1/4" in a self-leveling epoxy system. This is a very durable decorative floor for commercial and industrial application.
Reflective Floors (aka Metallic floors, Metallic Reflective floors) – Reflective floors are an aesthetically beautiful decorative flooring option set in a heavy duty epoxy system. With proper floor preparation, these multi-colored floor finishes can smooth and beautify old, rough floors into show pieces.
The list above is by no means a complete list of floor finishes. There are countless other special purpose types and finishes of concrete floor finishes… Acid Resistant Novolacs, Tarrazzo, 3D finishes, etc., but the above list comprises the bulk of what we come across on a regular basis.
If you need assistance with your commercial or industrial floor finishing project, please contact us at 724-898-2446, visit our 'Contact Us' page, or click on the button below to have us contact you.
ImageWorks Painting is a Pittsburgh, PA based full service Commercial and Industrial painting company. For large floor coating projects we do traveling work. We do jobs ranging from 2000ft2 (locally) to upwards of 200,000ft2.
Leave Us a Comment
Contact the Pros
Ready to get started with your next painting project but unsure if it is in your budget? Reach out to the expert painting team at ImageWorks Painting to schedule a free consultation today. Give us a call at 813-570-8800 (Tampa) or 724-898-2446 (Pittsburgh), or request a visit online.