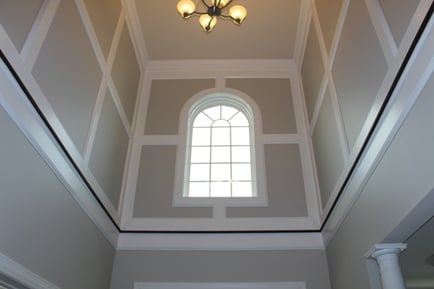 Just about every homeowner I know has, at some point in time, painted a room or two in their home, or maybe even done an entire interior painting project.
Watch any home improvement show on HGTV or the DIY Network and they'll tell you all about how easy it is to do. What they don't tell you is what to do when the end result isn't anywhere near as pretty as the one you saw on the television.
Now your cut lines between the walls and the trim are crooked and blurry, you have runs and sags in your finish, the color and the sheen are not consistent from one surface to the next, and for some reason there are speckles of Kilim Beige on the family dog.
What Do You Do Now?
Luckily, it's only paint so it can be fixed without calling-in a demolition crew. So what I'd like to do in this week's article is to share with you some tips for making your interior painting project -- whether it's walls and ceilings or doors, windows, and trim -- look much better the next time around.
1.) Buy Good Paint And Painters' Tools
It's tempting to buy cheap paint and painters' tools because it can save you a ton of money on your project. Many folks believe there isn't much difference between it and the good stuff anyway...so why does it matter? Because there IS a big difference and it really does matter.
Good paint covers better in less coats, is more durable against abuse, and lasts longer between re-paints.
High-quality paint brushes and roller covers & frames will not only pickup and put-down more paint with each dip in the bucket -- saving you time, but they will also give you a better looking finish with less brush and roller marks left on the surface.
2.) Pick The Right Color BEFORE You Have Your Paint Tinted
One of the great things about paint is that the color can be changed relatively easily if you don't like it. But if you're anything like me, few things are more aggravating then buyer's remorse.
Rather than picking colors at random from the color wall at the paint store, why not check out one of the many color help options available:
The ColorSnap® smartphone app allows you to match a color that inspires you - anywhere, anytime.
The SnapIt program for Google Chrome allows you to turn any of your favorite pictures into a color palette for your home.
The ColorSnap Visualizer allows you to virtually paint any room or the exterior of your home without purchasing any paint.
The Voice of Color Game is a matchmaker between your personality and the hues that best fit it.
Color To Go are inexpensive sample paints that allow you to put some color on the wall without having to buy an entire gallon.
3.) Protect Your Floors, Furnishings, & Surrounding Surfaces
A painting project quickly becomes a lot more costly when you have to replace carpeting or furniture because of a spill. Learn how to properly protect your home during a painting project by using good painter's masking tape and drop cloths and you won't have to worry about crying over spilled paint.
4.) Use Spackling & Painters' Caulk
Nothing will ruin the look of a fresh paint job faster than nail-holes, cracks, and gaps that show through the finish. It takes time to prep your walls for paint, but the payoff is well worth it.
Just be sure you know when to use painter's caulking, when to use spackling, and when to use drywall joint compound.
5.) Prep Your Brush & Roller Cover
Load your paint brush with paint by dipping it into your bucket about 1/3 of the way up the bristles from the tip. Press the freshly-dipped bristles into the wall surface at a 90 degree angle, working the paint into the bristles using firm pressure and a circular motion.
This will ensure that the bristles in the center are saturated as well as those on the outside of the brush, eliminating dry spots and drag marks when you cut-in along your edges.
Likewise with your roller cover, make sure to load it thoroughly with paint. Before you do, wrap the dry cover with blue painter's tape and remove it before you load it with paint. This will prevent lint from getting in your wall's finish.
6.) There's A Wrong Way To Use A Roller
First, be sure to select the right roller cover to go along with the type of paint you're using. Understand that many roller covers are made of a knitted fabric that's attached to a plastic or cardboard core, and that fabric is often directional -- much like your home's carpeting.
This means that you may get a different texture when you roll your cover down the wall than you do when you roll it up the wall. You can solve this problem by "tipping-off" when you finish a section of wall. After you've applied your paint in an area of the wall, go back over that area using very light pressure and rolling in one direction from ceiling-to-floor until you've gone over that entire section.
Also, never apply too much pressure when rolling out a wall. This can cause the roller frame to flex which will cause your roller cover to slide rather than roll. Finally, always roll toward the elbow of the roller frame rather than away from it, as that will minimize the likelihood of flexing.
7.) Don't Make Your Touch-Ups Stand-Out
Following the tips I mentioned above, applying two full coats, and being careful not to miss any spots will keep your touch-ups to a minimum. However, there will be some areas that will need to be addressed after the fact. And how you touch-up those spots does matter. Learn the proper techniques to doing touch-ups like a pro and your project will turn out looking outstanding.
If you would like some help with your house painting project please give us a call at (813) 570-8800, visit our Contact Us page, or click on the button below to request your free, no-obligation consultation and quote.
photo by: Brian Moloney / CC BY 2.0