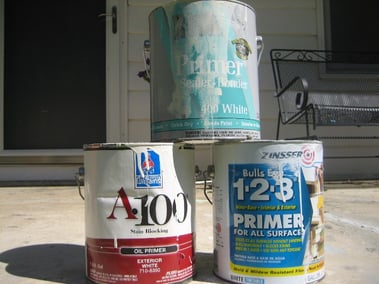 Everybody loves a one stop shop. People flock to superstores like Walmart because we can do our banking, get a haircut, file our taxes, get the oil changed in the car, and buy a week's worth of groceries, all under the same roof.
When we have a home improvement project most of us hit up a big box store because it saves us from having to run all over town picking up supplies. Very convenient.
But what these places lack are specialization. When I have a home improvement project I often head to Home Depot or Lowe's to get all of my supplies. But if I need specialty parts, or knowledgeable advice about an unusual fix, I'll go straight to the small suppliers where the pro's shop because I know that they have products available to solve very specific problems.
Same is true when it comes to paint. Prep work and primer are the life of any good paint job, but many folks will either not use any primer at all or they'll just reach for the default multi-purpose product for every situation, such as Kilz -- who's name seems to have become synonymous with paint primers in the same way that Band Aid brand has become synonymous with adhesive bandages. Even though these all-in-one products do have their place, they're not always the best choice for a project where a more specialized primer will do the job much better and, more importantly, last much longer.
In this week's article we'll discuss some of my favorite choices of primers for homeowner use that you may have never heard of, but might want to consider adding to your arsenal the next time you find yourself with a brush in your hand.
Multi-Purpose Primer
I know I'm contradicting myself here but if you do a lot of projects around the house like I do it just makes since to have a can of multi-purpose primer laying around that can be used in a pinch. Without a doubt, my personal favorite product is Zinsser Bullseye 1-2-3.
It's water-based for easy cleanup, suitable for interior or exterior use, can be used on a variety of surfaces, is effective at blocking some stains, it dries quickly, and is reasonably priced. My only gripe is about it's thin consistency. If that's an issue for you, another good alternative would be Sherwin-Williams' Multi-Purpose Latex Primer/Sealer. It's a much thicker product than Bullseye but less versatile IMHO.
New Drywall & Interior Bare Wood Primer
For my money, the Cadillac of new drywall primers has to be Sherwin-Williams' Premium Wall & Wood Primer. As opposed to generic PVA drywall primers that you can purchase just about anywhere, the extra money you'll pay will make a noticeable difference in the quality of your finish, especially if you're a discerning consumer who truly appreciates a luxurious looking wall.
Same is true on bare wood trim. I've done side-by-side paint-outs with PW&W Primer next to other quality products and the difference is easy to see. It creates a much smoother finish and allows the topcoat to build a richer, more uniform looking color and sheen.
It also sands very easily once dry, so if you need to buff out any imperfections in your trim work it can be a real joy to work with. The only downside is the cost; it can be pricey unless you catch it on sale.
Stain-Blocking Primer
For stubborn stains that bleed through most primers and topcoats, such as smoke and water stains, you may want to reach for the gold standard in stain-blocking primers: Zinsser BIN Primer. This product has earned its long standing reputation because it works.
BIN Primer is outstanding at not only holding back stains but it is the best choice for sealing in odors from smoke, fire, and pet stains -- and it will work when all other options will not.
The drawback to BIN is that it is a shellac-based product which means it is thin in consistency, difficult to work with and cleanup, and it stinks something aweful. Not only does it smell bad but the fumes are so strong you wouldn't dare want to use it in an area without good ventilation and a good respirator unless you enjoy a headache.
If you need to use BIN on a project don't forget to grab some throw-away brushes and either denatured alcohol or ammoniated detergent for cleaning up everything else.
Bonding Primer
Some surfaces a just too slick for any paint or primer to stick to, and some situations -- like when you're painting latex over oil -- require a little extra help. For these areas you'll need a primer that is specially designed for just a task. There are lots of primers that claim to work for this purpose but none that I've found are as effective as XIM 400.
XIM 400 is a quick drying, solvent based primer. The only issue is that it is solvent-based so the cleanup is not as easy as a water-based alternative, but that's a small price to pay for the difference in effectiveness. 400 can be difficult to find in some areas with the new VOC regulations that are now in effect, but XIM does make a Lower-VOC alternative.
Exterior Bare Wood Primer
Sometimes slow is better -- and not just when you're cooking BBQ pork. There are faster-drying, easier cleanup alternatives to almost every type of product today but when it comes to exterior wood, especially wood clapboard siding, I'm still old-school. I just love the tried and true technology of slow-drying oil based primer. And the king of oil based wood primers has to be Sherwin-Williams' Exterior Oil-Based Wood Primer.
Because it dries so slow (24 hours to recoat) it has more time to penetrate into the surface of the wood allowing it to bite and stick for a long time. The same thing that makes it so great is the same thing that keeps people from using it -- it's oil based and it dries slow. But hey, sometimes you've gotta take the good with the bad.
Concrete Primer
Concrete is a different animal than other substrates and it deserves its own line of coatings that are suited to its unique demands. Sherwin-Williams has just such a line of concrete coatings, called Loxon. With Loxon Concrete & Masonry Primer being their most versatile option for homeowners who need to coat bare masonry.
LC&MP is great because it can be applied to surfaces that have an elevated pH level -- where other primers would fail in the same application, it will seal porous surfaces to help keep water out, it will resist efflorescence (those salty-looking, white deposits that form on the surface of concrete), and it is very cost effective.
Primer To Stop Peeling Paint
When doing your exterior painting surface prep, it's always best to scrape peeling paint back to the point where it's no longer peeling, then feather-sanding your edges, and spot-priming the bare areas before topcoating. But there are times that I've found that the paint just doesn't want to stop peeling.
In lieu of stripping down the entire surface there are times when you can get by with using a binding primer such as Zinsser Peel Stop to seal down those loose edges after you've scraped as well as you can.
Peel Stop can be used inside or out, is water based, and can be applied to a variety of surfaces. It can also seal down paint cracks and bind chalky surfaces.
Rust Inhibitive Primer
Bare metal surfaces will rust, even when they've been painted, if a rust inhibitive primer and coating haven't been used for protection. There are a lot of acrylic (water-based) rust inhibitive primers but I've never been terribly impressed with their performance. I believe there really isn't any substitute for a good solvent based primer in this situation, however, all of the really good solvent based rust inhibitive primers are no longer available in their original form because the coatings manufacturers had to reformulate them to meet the new VOC guidelines.
But as far as the best of what is available I'm partial to SW's Kem Kromik Universal Metal Primer. The problem is that this product is actually under the company's commercial line of products so you won't find it on the shelves of your local store. However, they do keep it in the back with the other contractor products and they'll gladly sell it to you if you're willing to dig deep into your pocket book for it.
A more affordable option would be their All-Surface Enamel Oil Primer in the red label. It can be used interior or exterior and is very durable.
Liquid Masking Primer For Windows
Masking Liquid H2O is a really cool product that can be applied directly overtop of the glass when painting window frames, then peeled-away once the paint has dried -- saving you a ton of time over masking with painter's tape. It also doubles as a primer for bare wood and vinyl so it can be applied over the entire window sash, eliminating the need for two products -- saving you even more time.
This is by no means a comprehensive list of every specialty primer available on the market, but it is a great core group of products that can save you from misusing a multi-purpose primer and having to repaint the same project every year or two.
My suggestion for any would-be weekend warrior is to have a can of Bullseye laying around and put it to good use where appropriate. But when the occasion calls for something a bit more specific you'll know just what to use to get it done and forget about it.
If you're located in the Greater Pittsburgh or Western Pennsylvania areas and would like some assistance with your exterior painting project please give us a call at 724-898-2446, visit our 'Contact Us' page, or click on the button below to have us contact you.