In terms of increasing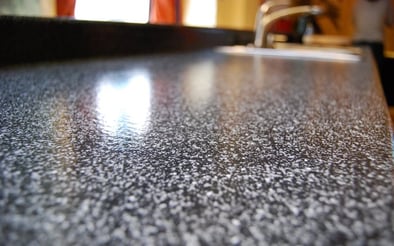 the monetary value of your home, it's said that a kitchen renovation will give you the biggest bang for your buck when deciding which areas of your house to remodel.
According to research by HomeAdvisor.com, most homeowners spend between $12,756 and $32,993 to remodel their kitchens -- with 30% of that total budget going to new cabinets, and another 10% going to countertops.
The Numbers
I'm no math whiz but I think that works out to folks spending on average of between $3,826 - $9,897 on cabinets and between $1,275 - $3,299 on countertops. Now, if you're cool with those numbers, far be it from me to try to convince you of ways to save yourself the majority of these costs. But me...I'm a dedicated DIY'er and I hate to pay someone else full price for something that I can do on my own for a fraction of the cost, and make it look almost as good.
I realize that there are a lot of people out there who don't have the time, nor the inclination, to tackle big home improvement projects like painting kitchen cabinets or painting kitchen countertops. But I think more than anything, there are a lot of you who would love to save a ton of money, only you lack the confidence to take something like this head-on.
What if I told you that for about $300 and a weekend of your time you could transform your laminate countertops and stick $1,000 - $3,000 in your pocket? Would that give you a little more incentive?
How Difficult Is It?
On a DIY difficulty scale of 1-10 -- with painting a room in your house being about a 4 -- I'd give it maybe a 5 or a 6, but only because it requires a little more patience and attention. If you have the ability to do interior painting work and make it look decent, with the right materials and knowledge you have the ability to paint your kitchen countertops.
Getting Started
Clear The Area - This process can be a little messy so I would recommend that if you don't want to have to worry about cleaning some sanding dust off of your dishes and furniture, go ahead and remove them from the kitchen and move them into another area of your home.
Protect The Nearby Surfaces - Using some low-tack painters' tape, attach plastic drop cloths to the faces and boxes of your base cabinets as well as the backsplash wall area between the countertop and the wall cabinets. Also, cover the sink using plastic and tape, and be sure sink drains are plugged so they don't fill with decorative chips.
Use heavy-duty plastic or canvas drop cloths to cover the floor in front of the cabinets from spills and paint spatter.
Get The Right Kind & Amount Of Material - Measure your countertop area to make sure you'll have enough material in the kit to finish the job. The DIY-friendly product that I recommend is the Rust-Oleum Countertop Transformations Kit. The large size kit covers up-to 50 square feet, or 20 linear feet of standard-depth countertop; the small kit covers up-to 30 square feet or 12 linear feet of countertop. It is available in four different colors.
The items you'll need to purchase in addition to those found in the kit include:
Two 2" synthetic paint brushes
One 6" high-density foam roller
One 6" x 3/8" microfiber roller
Two paint trays
1" & 2" painters' tape
Lint-free rags
Protective eyewear and breathing protection
Prep The Surface
Make It Smooth - Many small burns, scratches, and blemishes on your countertop can be covered as-is. Cracks/joints, chips, and dents will need to be filled by sanding the area with a medium-grit sandpaper and patching with a 2-part epoxy putty (not typically included). Allow it to dry completely and sand flush.
Remove Sealants - Remove any caulking or plumbers' putty around drop-in sinks, where the backsplash meets the wall, etc. with a putty knife or 5-in-1 tool. Then clean the surface with a good degreasing pre-paint cleaner.
Sand - Using breathing and eye protection, sand the countertop to promote adhesion of the new coating. Some kits include a diamond-embedded sanding tool. Remove all sanding dust from the surface and wipe with a damp cloth. Check for any remaining dust on your hand after it dries. If there is any remove it with a damp cloth.
Inspect surface to be sure that all of the gloss has been dulled or removed with the sanding step before proceeding.
Product Application
Basecoat - Apply the adhesive basecoat in a thick coat, cutting-in the backsplash and along perimeter and sink with a brush, then following behind in the other areas with a roller -- similarly to how you would paint a wall. Be sure to maintain a wet edge. "Tip-off" by lightly rolling over the entire wet surface in one direction to give a smooth finish.
Decorative Chips - Before broadcasting the decorative chips, some kits will have you mist the surface with a wetting agent to increase the open/working time of the adhesive basecoat.
Using a broadcast spreader (included in some kits) or your hands, broadcast the decorative chips all over the surface until it is completely covered. Allow to dry for about 12 hours.
After it has dried, remove the excess chips with a vacuum or a broom and dustpan.
Use a plastic scraper to remove any chips with loose edges or chips that are not well-adhered, then sweep or vacuum it again.
Use a fine-grit to medium-grit foam sanding block to sand the surface of the chips smooth, but don't sand through the chips.
Using your hand, check for areas that are rough to-the-touch, and re-sand if necessary until uniformly smooth.
Remove all dust as before, and wipe down the surface with a damp cloth as many times as is necessary to remove all surface dust.
Protective Finish Coat - Apply a coat of the clear, protective finish coat over the entire countertop using a brush and foam roller cover in the same manner as you applied the basecoat. Tip-off to finish. Allow to dry for about 6 hours.
Remove the painters' tape, scoring the paint line with a razor knife first to keep from damaging the finish.
Allow to cure for 48 hours before resuming light use.
Allow the countertops to cure for a week before resuming full use. Apply a bead of kitchen & bath silicone caulking around sinks, backsplashes, and along adjoining walls to keep water from finding its way into spaces that it shouldn't.
How Well Does It Hold Up?
You might think, given the fact that this is such a cost-efficient alternative to countertop replacement, you have to give up some desirable qualities in the trade-off.
However, most of these high-quality DIY re-surfacing kits are stain and water resistant; they stand-up to strong, non-abrasive household cleaners; and they inhibit the growth of mold, mildew and other odor or stain-causing microbes from forming.
As long as your existing laminate countertop is in sound structural condition, it is absolutely something you should consider before digging deep into your pocketbook.
If you live in the Greater Tampa, Fl area and would like some assistance with your house painting project please give us a call at (813) 570-8800, visit our Contact Us page, or click on the button below to request your free, no-obligation consultation and quote.
(Kitchen countertop painting is not a service ImageWorks Painting provides at all of our locations)
photo by: Charles & Hudson / CC BY-SA 2.0
Leave Us a Comment
Contact the Pros
Ready to get started with your next painting project but unsure if it is in your budget? Reach out to the expert painting team at ImageWorks Painting to schedule a free consultation today. Give us a call at 813-570-8800 (Tampa) or 724-898-2446 (Pittsburgh), or request a visit online.