Exterior House Painting Services
Exterior painting projects can be daunting! Not only are you competing against the usual painting headaches like keeping color consistent and free from stains, now you have to face the wear and tear of the outdoors. Adhesion issues, chalky surfaces, peeling paint and UV fade are only a few of the many struggles to consider to when striving for a successful exterior paint job. ImageWorks Painting has a knowledgeable and skillful team to address these conditions and many more!

ImageWorks Painting is here to handle all your exterior painting needs.
ImageWorks Painting will create a step-by-step plan to ensure the best possible outcome for your project, and will provide you with unparalleled communication throughout the process to help you accomplish projects like…
Vinyl Siding Painting
Aluminum Siding Painting
Wood & Fibered Cement Siding Painting
Window & Trim Painting
Brick, Masonry, & Stucco Painting

Cedar Siding and Log Home Staining

And Much More!
ImageWorks Painting delivers excellent service for high quality exterior painting projects!
Contact Us
Schedule your free consultation & quote.
To get started on your project today!
Click on any of the blog titles below to learn more about preparing for your next project

The last 25-30 years have brought about drastic changes in construction methods to the retail, warehouse, and distribution markets. The recent Pandemic and growing need for...
Read more >

For any homeowner, one of the most frustrating parts of starting a painting project is choosing the color palette. I mean, there are soooooo many choices in color out there.
Read more >

A fresh coat of paint is guaranteed to make your home look better–as long as you know what you're doing. You certainly don't need to be an expert to tackle an interior or...
Read more >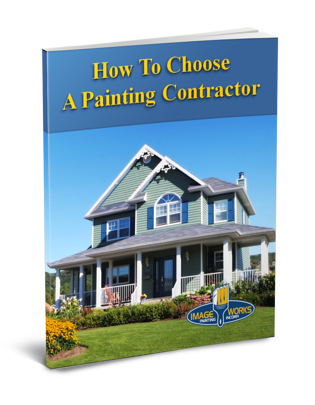 How to Choose a Painting Contractor
In this Interactive Guide You'll Learn:
Where to find the best painting contractors

What questions to ask when you are collecting bids

What steps you should take to protect yourself

How to ensure that your project will turn out great

How to avoid getting ripped-off
Get It Done Right - The First Time
Get Your Guide