There's an alarming business practice that's become commonplace in the house painting industry that most homeowners are unaware of. Many house painting companies -- even some of the large national franchise companies -- don't do their own work.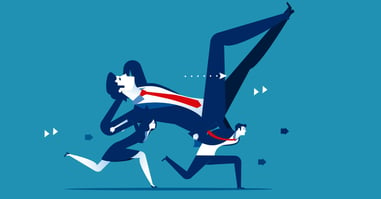 If house painting companies don't use their own professional painters to paint your home then who does the work? Many painting companies sell their services to unsuspecting homeowners and then they pass the contract off to a sub-contractor to perform the labor. Many of them don't even employ an actual painter on their staff. They simply sell the jobs, collect the checks, and split the money 50/50 with the painting crew who actually does the work -- making them nothing more than a middleman. Other owner-operator companies often use sub-contract labor to staff their crews or pay their workers under the table -- both of which are just as bad if not worse, as well as illegal in most cases.

The reason why they do this is that it allows them to cut waaaay down on their overhead costs by not having to pay social security contributions, unemployment and payroll taxes, or workers' compensation policy premiums; and they either pass some of that savings along to the customer by providing them with a low-ball bid price or just stick the extra profit in their own pocket. While this has been a common occurrence between general contractors and sub-contractors on unoccupied construction projects for many years, when we're talking about painting someone's home the end result is that the customer is unknowingly being put at great personal risk.
So how exactly does this put the customer at risk? Being in the industry myself for nearly two decades and having worked for one of these large franchise companies in the past, I can speak from personal experience when I say that there are several areas of concern that anyone looking to hire a painter should carefully consider.
Quality of Workmanship
Good painting companies that use W-2 employees control the quality of their work by having a continuing skills training program for their workers to ensure that they are using the most effective equipment and techniques. They also abide by the Painting & Decorating Contractors of America's standards for craftsmanship so the quality is always consistent from job to job.
By law, the IRS will not allow a painting company to dictate to any sub-contractor the methods they should use for performing their jobs. So even if they wanted to guarantee a certain level of the quality of work, they lack the legal behavioral control to do so. But the fact of the matter is -- as I have seen first hand -- there is very little if any vetting of quality that many of these companies actually do when they hire a new sub crew and turn them loose on a customer's project.
The result is usually inconsistent quality from one job to the next. And the primary contractor's only recourse for getting their sub-contractor to fix their mistakes is to force them to return to the jobsite by refusing to pay them for their labor until the shoddy workmanship is fixed. That's of little consolation to a homeowner when they're stuck with a painting project that looks terrible, waiting for it to be corrected by a disgruntled sub-contractor who just wants to rush through the repair work so they can get paid.
If the situation becomes contentious and the sub-contractor doesn't correct the errors and finish the job to the painting company's satisfaction, they will often refuse payment to them. The only recourse that a sub-contractor then has to collect their money, other than litigation, is to file a mechanic's lien on the homeowner's property to force the painting company to pay them.
These may sound like extreme situations, but they happen more than you might imagine.
In my experience, when workers are left to their own devices and are being paid such a small fixed portion of the overall painting contract -- as is almost always the case -- they often feel that the best way for them to make any money for themselves is to get their work done as quickly as possible. They are neither being directed nor compensated in a way that is encouraging them to take the time necessary to do the job the right way without cutting any corners.
Personal Safety
You'd probably expect that the crew members working at your home are good guys or gals. This painting company you contracted with would never endanger you, your family, or your belongings by sending any shady characters out to paint your house, would they? You might be surprised. During the time I worked for one of the largest national franchise painting companies, not once did they do a criminal background check on the crew members of the new sub-contract crews they hired. They didn't even make it a point to meet all of the members of the crews before assigning them to the jobs.
Whether you decide to go with a painting contractor that performs their own labor or not, make sure you check that they know -- and that you know -- exactly who is working at your home.
Homeowner Liability
Another serious issue that often gets overlooked is one of homeowner liability. Every legitimate painting company has an OSHA-based safety training program in place for its employees to ensure that appropriate workplace safety practices are always being followed. After all, painters are at high risk for one of the most common workplace accidents -- falls from ladders. A legitimate painting company pays workers' compensation insurance premiums -- usually hefty ones -- for each of its employees so that they are covered if such an event would occur.
Why this becomes the homeowner's concern is because many of these sub-contract crews have other crew members working for them that are NOT their employees. They are either sub-contractors of the sub-contractor or they are being paid under the table by the sub-contractor for their labor. In either case, rarely are they covered under a workers' compensation policy.
So if one of these workers falls off of a ladder or gets injured on the job they can attempt to hold the homeowner liable for their medical bills. Always make sure that every single worker who steps foot on your property is covered under a workers' compensation policy, not just the company you're contracting with; don't ever assume that they already are.
There's a common saying in the workplace -- "Safety is no accident." What that means is that good safety practices are not instinctive, they're learned. So ask yourself: If your painting company is not safety-training their workers, who is?
What's A Homeowner To Do?
A question I hear often from homeowners is: "Why is there such a difference in price between painting companies?" It is not uncommon for us to see price fluctuations -- at times even large ones -- when we have the opportunity to compare our proposals to those of other companies. Sometimes it can be due to a simple difference in the scope of work to be performed where one company intends to do additional work that another does not, sometimes it's due to a legitimate company being compared to an illegitimate company (one who doesn't have licensing, insurance, workers' comp coverage, and/or are paying their workers under the table). But regardless, whenever we see a huge discrepancy in the price for the same scope of work it is almost always because there is not an apples-to-apples comparison of companies.
It takes a lot of time and money for a legitimate painting company to find, screen, hire, and properly train high-quality professional painters; to follow the Painting & Decorating Contractors of America's standards for craftsmanship on all jobs; to maintain required insurance and workers' comp levels, and to operate an OSHA-based safety training program. It most certainly costs more for companies to do business this way, which can affect their bid price to the customer. And while the dilemma of the business owner may not be the homeowner's concern, the end result of doing business this way versus the alternative is almost always a happy, well-protected customer, and that is definitely important to any homeowner.
In fact, some of our best customers have come to us when we've been hired to help them correct mistakes caused by the inferior workmanship and practices of other painters. From a price standpoint, there are times when legitimate painting companies just cannot compete with other painters who use substandard business practices because they are not willing to compromise their standards or their customers' safety to do so.
There are definitely times when all ends well for homeowners who utilize middlemen or even illegitimate painting companies, and sometimes they end up saving money in the process. However, it is always a gamble and it's easy to see the risks that these types of business practices can expose the customer to.
If you're considering hiring a painting contractor to paint your home we suggest you make sure you're asking the right questions, and you ask yourself how much risk you're willing to take in exchange for the possibility of a lower bid price.
For a complete guide to knowing what to look for and what to look out for, download our 'How To Choose A Painting Contractor' guide below.