Getting Started On Your Home's Storm Damage Repair
Jeremy Holderness
Wed, Sep 20, 2017 @ 03:33 PM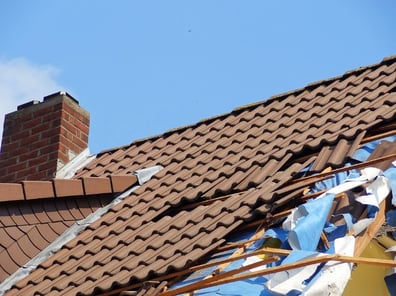 In the wake of Hurricanes Harvey and Irma, as many folks are now returning to their homes, they're finally able to give thanks that the danger has passed, and that their loved ones are safe and unharmed. But that momentary sigh of relief is soon interrupted by the overwhelming reality of having to assess their house's condition to begin repairing any damage that was left by high winds, flood water, and flying debris.
I've not personally experienced a hurricane
s
o I can't truly imagine the feeling of being at the mercy of such a force of nature. But back in early 1997 my family lived along the edge of the mighty Ohio River, East of Cincinnati, when it spilled its banks and we were hit with the highest level of flood waters since 1964. Half of our town was evacuated to higher ground and we watched over a period of a few days as the river slowly crested and then receded. When we were finally able to return home we found that the water level had reach nearly four feet high on our residence, ruining all of our property and belongings that we hadn't had time to move to higher ground before we were forced out. It left us with a sense of not even knowing where to begin to put things back together.
Having the perspective that comes from now being years removed from that event, I wanted to write this week's article to help those who were affected by the recent natural disasters to get started on their own home's storm damage repair.
Safety
Above all else, never return to a structure where flood waters are still present -- especially where water could be deep, such as in a basement -- before the outside electric meter has been removed from its socket by a licensed electrician, utility company worker, or an emergency responder who is qualified to do so. If you enter a building before this has been done you risk losing your life and the lives of your loved-ones to electrocution.
A home's electrical components are not designed to ever be submerged, and if there is still power feeding into the house it can create a very dangerous situation. Even if the electric grid is currently down, there is always a reasonable chance that one of your neighbors could be running a generator to power circuits in their home. And if they've connected it directly to those circuits without the use of a special component called a transfer switch they could be back-feeding electricity into the nearby grid.
Having the outside meter professionally removed is the only way to ensure your safety.
Flooding
If you were one of the many who were a victim of flooding, you soon learn that it also brings with it the additional headaches of sewage contamination, followed by mold and mildew growth if it's not dealt with swiftly and correctly. If you are covered by flood insurance it's a good idea to contact them immediately to start your claim. Chances are good that they will be dealing with many claims in your area so it's preferable to get in line as quickly as you can. Assuming that they have no problem with you taking some proactive measures, I wouldn't wait until the claims adjuster makes their way down the list to you before I started mitigating my risk of a large-scale mold and mildew issue.
Removing Water-Damaged Surfaces - All surfaces in your home that flood waters directly came in contact with, or surfaces that waters wicked their way into, will need to be removed from your home so that the structure can dry-out thoroughly. This can include carpeting and flooring (in some cases even the subflooring), low-lying trim moldings, drywall, wall insulation, etc. Once these things have been removed and the structure of the home has been exposed, you need to get a large amount of fresh air moving throughout the building. The best way to do this is by renting professional-grade air movers from a local tool rental company, but if they're not available you may have to make do with some large floor fans.
Flood restoration companies can take care of this work for you, but they may also be backed-up with work so waiting on them may not be an option.
Stop Mold & Mildew - When the building has completely dried-out, any mold or mildew growth will need to be removed, and all remaining surfaces that were touched by moisture should be treated with an antimicrobial agent to prevent any future organic growth. I would definitely recommend this step be left to the professionals so that you have the peace of mind that it was done correctly. Just be sure to get on their waiting list early.
*It's not advisable to use any of the home's mechanical systems who's components were submerged in flood water (i.e. heating and cooling systems, electricity, etc.) until they have been professionally repaired and cleared for safe use. It's also a good idea to disinfect any of your belonging touched by the flood waters that you intend to keep, and to wear rubber gloves while doing any of the work mentioned above.
Wind & Flying Debris
Some wind damage is easy to spot, but not all. High winds can have disastrous effects and render your home completely uninhabitable. But it's the less noticeable damage that, when overlooked, can continue to wreak havoc for a long time to come.
Many people will depend on their insurance claims adjuster to inform them of the extent of the repairs that need to be made. But speaking from experience I can tell you that adjusters are human beings just like the rest of us, and when they're tired and overworked they can and will make mistakes too. So for any of the rest of you "trust but verify" crowd like myself out there, as well as for all of those who were not fortunate enough to have their homes covered by insurance, let's discuss some of the things we should look for.
The Roof - I would start my inspection here because if your roof isn't in solid shape, the rest of your home will eventually pay the price. If you feel comfortable using a ladder safely -- or your have a friend who does -- climb up and have a look. Check for damaged shingle tabs or roof tiles, and if you find any get them repaired quickly before the next rain has a chance to cause leaks into the building.
Also check metal and rubber flashings around chimneys, plumbing vent stacks, roof vents, and where roof lines meet in valleys. Finally, inspect rain gutters for damage or change in pitch and be sure that they're still free-flowing into the spouting.
If you're familiar with your home's attic and you have access to it, check on the condition of the underside of the roof's sheathing and that it is still properly attached to the structure, as well as the condition of the roof rafters or trusses.
If you have insulation in your attic and it got wet because of a leaking roof, you should replace it.
Side Walls - The next place I would investigate are your home's sidewalls to look for damage or cracks to siding or stucco, check that windows and doors are still fully operational and that there's no damage. Look to see if there are any cracks or gaps that have opened-up -- even ones that may have been previously caulked -- that would allow water to enter the structure.
The Foundation - Especially those affected by flooding should pay close attention to the condition of your foundation. The flood waters actually shifted our home slightly on its foundation so you'll want to look for any visible changes. Also identify any new visible cracks that may have occurred in the masonry so that they can be further investigated by a professional and repaired.
Inside The Home - Look for any new cracks in the drywall on both the walls and ceilings that could be caused by shifting of the structure during severe winds or flooding.
Predatory Contractors
Although this blog article doesn't even begin to cover everything, I've discussed a few of the more pressing issues that should be addressed as you return to your home. But unfortunately -- as if it weren't bad enough to have to deal with the general aftermath of such a catastrophic event -- if you need to hire a company to help you rebuild, you'll also have to worry about storm-chasing, predatory contractors who will inevitably descend like vultures on a rebuilding community.
These opportunistic "contractors" will setup shop in a storm-stricken area and go door-to-door offering a reasonable price and a quick start date for getting your work done. As great as that all sounds, the trade-off you get is not so good.
Despite the fact that they have a truck with a company magnet on the door, hit you with a polished sales pitch, maybe even offer to sign a job contract with you -- many of these contractors do not represent a legitimate business. Often they are not licensed, bonded, or insured to conduct business in your locale. And though they might tell you that their work is guaranteed, what they really mean is that you get a taillight guarantee; so good luck tracking them down when you discover the true quality of the work you paid for.
How do you avoid getting involved with one of these jokers? First off, know going into the process that you're especially vulnerable if you don't have insurance coverage that might require any would-be contractors to jump through hoops if they're getting paid directly from the insurance company. If you don't have insurance, or your insurance company cuts you a check directly, be sure to deal locally...but not with just anyone who happens to have a business near you. There are plenty of illegitimate local contractors in any given area who won't offer you any benefit over working with an out-of-town person. So be sure to do your homework and hire smart.
Check Angie's List for highly-rated companies
Lookup their ratings on the Better Business Bureau to see if they have had many complaints and how those complaints were handled
Investigate their public customer reviews on Google
Call previous customer references of any potential candidate
Get a copy of their license, proof of insurance, performance/surety bond, and workers' compensation certificate
Have them sign a job contract with a detailed scope of work
Just remember that they work for you, and not the other way around. Don't be afraid of offending them by asking for these things. Legitimate business won't hesitate to accommodate you.
Having some small idea of what it's like to have to pick up the pieces and put it all back together after enduring difficult times, my heart goes out to all of those who were affected by these super storms. As long as it can take for things to return to normal, trust in the process, and trust that if you continue to put one foot in front of the other things will continue to get better for you and your family.
Be safe!
photo by: maxpixel / CC BY: CC0 Public Domain
Leave Us a Comment
Contact the Pros
Ready to get started with your next painting project but unsure if it is in your budget? Reach out to the expert painting team at ImageWorks Painting to schedule a free consultation today. Give us a call at 813-570-8800 (Tampa) or 724-898-2446 (Pittsburgh), or request a visit online.