Why Do Painting Contractors Have A Bad Reputation?
Jeremy Holderness
Fri, Nov 02, 2012 @ 01:05 PM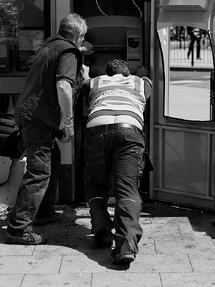 There's a problem with painting contractors...and other home improvement contractors as well. The truth is that, generally speaking, homeowners have a negative perception of them.
At the risk of slandering my own kind, I can say with confidence that painters have earned a reputation for being unreliable, unprofessional, and untrustworthy.
Survey after survey of our industry highlights a laundry list of homeowner grievances when it comes to dealing with contractors.
The list includes things like:
They don't call back...even when the homeowner is requesting an estimate.
They don't start or finish the job on-time; if they finish at all.
The work doesn't live up to the quality standards that they promise.
They don't stand behind their work when there's a problem.
They run off with customer's deposit and are never seen again.
What's The Cause Of All This?
Painting - as with many of the other home improvement services - is often seen by unskilled, out-of-work types who are looking to make a quick buck, as something that anyone can do.
Even though they lack any professional experience in the trade - they do have a vehicle, a ladder, and some basic hand tools. It looks easy enough, so why not go slap some paint on the walls of an unsuspecting homeowner's house. What could possibly go wrong?
So, really, at the heart of this problem are the large number of illegitimate painting contractors that are taking advantage of homeowners and tarnishing the good reputation of those businesses that are trying to provide a valuable service to the community.
And the lack of industry regulation is certainly not helping matters either. There's simply no consistent criteria from state-to-state that determines what a legitimate contractor is.
Some states have stricter rules that require all or most of their tradespeople to be licensed to do business. In fact, California is taking it so seriously that it's cracking down on unlicensed activity by conducting state-wide sting operations to bust non-compliant contractors.
In order for contractors to obtain licenses in these states the applicants may have to prove on-the-job experience, financial ability, and in some cases they must fulfill education requirements before bidding and working on a project. Unfortunately, Pennsylvania is not one of those states requiring contractors to prove that they've earned the right to provide services to the community.
See what the laws are for your area by checking out the National Association of Home Builders website to view licensing requirements by state.
The Responsibility Is On The Homeowner

How does a homeowner avoid getting caught up with one of these fly-by-night crews, or maybe worse yet, a semi-legitimate business that will lure you in with a "good deal" then string you along for months and never complete your project?
If your state or local government is not willing to step in and help protect you, then you'll have to take matters into your own hands.
1. Research, Research, Research
With all of the internet resources that are available to you it is easier than ever to find out all of the information you'd ever need on local contractors.
Websites like the Better Business Bureau and Angie's List allow you to see how businesses are rated by the public as well as browse reviews of your neighbors' experiences with them.
When checking out reviews on sites such as CitySearch and Yelp take what you read with a grain of salt. The information you read there has not been verified for accuracy. So, in addition to some of the quality reviews you will find, there will often times be bogus reviews that have been published by the company itself to boost their credibility, and on the other side of the coin, hit-job reviews posted by other businesses attempting to tarnish the good reputation of their competitors.
2. Don't Be Lured-In By The Low Bid
It is always a good idea to get multiple bids (at least 3) before deciding on a contractor for your project. Invariably there will be a company that will give you a low bid because they badly need work.
Good companies have necessary expenses and they have to make enough money from the jobs they do to pay those expenses. Shady contractors are notorious for doing jobs for low wages, and they will often times convince the customer that they're getting a "good deal".
The fact is that they are cutting corners somewhere to provide you with that "good deal". And corner-cutting measures on the part of the contractor can come back to bite the customer.
In order to make money on low bids, illegitimate painting companies will often times skimp on proper workmanship practices that will leave the homeowner with a project that may look good on the surface but will not hold up over time.
You can also bet that they are cutting out other costs such as paying for general liability insurance or workers' compensation coverage. A practice that can leave the customer to bear a large financial burden in the event of an accident that causes damage to your home, or an injury to one of their workers.
3. Hold Them Accountable
A.) Have any bidders on your project provide you with a list of local references for projects that are similar to yours that you can verify for yourself.
Look for both old and new references. Old references will prove to you that their workmanship will hold up to the test of time, and new references will show that the quality of their work is still consistent.
B.) Have the bidders provide you with copies of their general liability insurance certificate as well as their proof of workers' compensation coverage for everyone that will be working on your project. Take it one step further by contacting the insurance companies to verify that the policies are still active.
C.) Demand a copy of the scope of work that they intend to perform on your job. A scope of work will outline exactly what the painting contractor will be doing for you, step-by-step, to complete your project.
This will enable you to make an apples-to-apples comparison of the different bidders, and may give you some valuable insight into why there are large financial discrepancies between the different bids.
D.) Finally, make sure they are putting this all in writing using either a written contract or proposal that is signed by both parties. And hold them accountable to everything they say they will do to make sure it gets done to your satisfaction.
Our blog post on The 5 Steps To Choosing A Painting Contractor For Your Home will provide you with some additional advice on selecting just the right painter.
For a complete list of questions to ask every bidder for your project you can download our "How To Choose" guide below.
Photo by: Public Places / CC BY 4.0
Leave Us a Comment
Contact the Pros
Ready to get started with your next painting project but unsure if it is in your budget? Reach out to the expert painting team at ImageWorks Painting to schedule a free consultation today. Give us a call at 813-570-8800 (Tampa) or 724-898-2446 (Pittsburgh), or request a visit online.