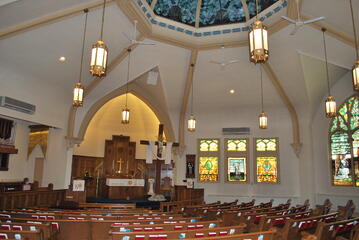 When you're preparing to paint the sanctuary of your church there are many things to consider during the planning phase, and choosing a competent painting contractor with church painting experience can make the process go much smoother. But what exactly are the challenges that you and your contractor will face in pulling-off a successful project?
Of course, each sanctuary is different -- whether the job is big or small -- but there are certainly obstacles unique to this particular task that must be discussed and overcome if the work is going to be completed in a timely, quality manner.
Scheduling
One of the most important questions you should be asking your potential painting contractor candidates is, "Can you complete the project between and around services so our congregation will not be displaced?" If a painting company can't give you a narrow timeframe for the completion of the work, and you're not comfortable with the thought of having things indefinitely disrupted, they should probably not be considered for the job.
Even if your candidates claim to be able to stick to a schedule, it would be advisable to contact their list of references to check their track record on past projects.
Another important thing to consider is the size of the workforce of the company. If additional work gets added to the job or unforeseen issues arise, does your contractor have the ability to increase the staff on the project to avoid lengthy delays in completion? Smaller companies are usually less able to adapt to change on large jobs which can slow down the process and cause unnecessary interference with church services.
Cover The Pews or Move Them?
If you have a small amount of painting work to be done in the sanctuary you should be able to cover the pews with plastic and work around them without much problem. A plastic that is thick enough not to tear easily should be used to protect the seating. If the plastic will be secured to the finished wood the appropriate type of painter's tape should be applied so as to not damage the finish -- usually either a green lacquer tape or a delicate surface blue tape will be sufficient.
If a lot of painting will be done overhead, especially with high ceilings you're probably going to be tempted to remove the pews and temporarily take them to another location until the project is done. But moving the pews can be a large undertaking. Aside from the fact that they're often very heavy and cumbersome, and can be easily damaged, each of them has to be marked with their location so they can be returned to their original homes. Failing to do so can cause great frustration as the mounting hardware will not necessarily line-up interchangeably between each of the pews and where they're mounted to the floor. More importantly, when you move pews -- especially older ones that are set in concrete floors -- it's possible that they won't reset as tightly when replaced, or even become wobbly.
Because of the potential for issues, many contractors just won't want to take on the liability of moving the pews and will require that the church take care of the task prior to their work beginning. To avoid the additional work you may want to consider working with a company who has the training and experience of safely working on complicated scaffolding setups that will allow them to work over top of the seating area without needing to disturb it.
Caring For The Pipe Organ
The amount of care and attention that must be paid to protecting a large pipe organ cannot be understated. If the pipes are even slightly incorrectly handled while being covered they can be knocked out of tune, necessitating an organ tuner to be called-in to re-tune the instrument.
If you or your contractor are unfamiliar with the proper way of carrying-out this prep work, an experienced professional should be consulted before you begin. Although it should be mentioned that the moisture that is naturally released into the air from the drying process of paint can actually affect the tuning of an organ, so there's no guarantee that you won't need to have it re-tuned no matter how carefully it's handled.
Scaling The Heights
Large churches with large sanctuaries tend to have high ceilings; ceilings that are often too high to tackle using ladders, if you expect to ever get the work done. If you run into this problem you're going to have to determine whether it's best to make use of scaffolding or motorized lift equipment -- or a combination of the two -- to safely get the job done.
A qualified contractor will know which is the best method to use to reach the high work because correctly working with this equipment is something that takes years of experience and training.
Regardless of the method they use, it is probably a good idea to confirm what type of safety practices will be employed when they're working high above the ground. The last thing you want is for a worker to be injured or for OSHA to show up and shut down your project because of a violation. OSHA has several Fall Protection requirements in-place to protect individuals working from heights. And a commonly overlooked requirement is that anyone working over 6' high on scaffolding must either be wearing a personal safety harness or have guardrails to protect them from a fall. In addition, certain types of lifts also require the use of personal fall arrest systems by anyone occupying the basket.
Ask your candidates if their employees have their OSHA safety-training certifications and make sure each and every one of them is covered under the company's workers' compensation policy. If your painter uses subcontractors to perform their labor and one of them is injured on the job there's no guarantee that they are covered under a workers' compensation policy, and they could attempt to hold the church liable.
Wall & Ceiling Repair
If cracks, patches, or textured ceilings require repair you'll need to address them prior to applying your new coats of paint.
Many older churches have walls and ceilings that are covered in plaster rather than drywall -- and plaster is a different animal altogether than drywall. Be sure to inquire with your contracting candidates as to their competency level of working with both types of materials.
If your sanctuary has textured ceilings that are in need of attention, with the proper equipment and technique a qualified contractor can make the repairs while matching the texture to the surrounding areas so you don't have to re-texture the entire ceiling.
Spray or Brush & Roll
Another item on the agenda is whether the paint should be applied using an airless sprayer or by brushing & rolling it on. Many people are apprehensive about letting someone use a paint sprayer on an interior project, but an experienced painter can utilize this method to more effectively complete some jobs.
Both of these methods have their place depending on the situation. Once the prep work has been done the application will normally go much quicker when using an airless sprayer, which is certainly helpful when there's a narrow timeframe involved. But it often involves additional prep work versus what's required to brush and roll the finish.
The best advice would be to ask each of the companies you're getting bids from and see what the common consensus is on the best way to go about it.
These are just a few of the challenges common to church painting projects. But if you have a reputable and experienced contractor to help you navigate the process it can make all the difference. Click on the button below to download a free copy of our How To Choose A Painting Contractor guide. It's a very helpful resource that many of our house painting customers found useful while interviewing contractors to find the best one to paint their homes, but we think you'll find it equally as helpful in interviewing painting companies and collecting bids for your church project.
You can also visit our FAQ page for answer to our most commonly asked questions, including the best place to find reputable contractors.
ImageWorks Painting is a full-service painting company that specializes in residential, commercial, and industrial painting. If you're located in the Greater Pittsburgh or Western Pennsylvania areas and you'd like to request a free consultation and quote for your project please give us a call at 724-898-2446 or 412-835-2446, or visit our Contact Us page if you'd like us to give you a call.