Looking for a Painting Contractor: 4 Red Flags to Look For
Steve Reutzel
Even if Brian with a brush means well, being able to identify professionals from general maintenance people can save you thousands of dollars and hours of potential downtime for your business. For many companies, appearances are everything to their customers and this extends to details like commercial paint projects. However, hiring the most qualified professional is not always straightforward. In a world where everyone "knows a guy," how can you properly vet contractors for the highest quality job? You can even search online and end up with a long list of potential contractors.
As cliché as it sounds, the proof is in the fine print. Here are a few red flags to look for when hiring a commercial paint contractor.
Red Flag #1: Low Rates
You should always shop around for commercial paint contractors. While the price tag might be the main driver in your decision making, remember going with the lowest price tag might mean having to pay twice for the right company to fix or finish the job properly.
Have a full understanding of the amount and price of materials. This can indicate if a company is purchasing low quality paint which could lead to more frequent repainting over time. They might save you money today, but they could cost you more later when you have to hire a painter again in a couple of years.
Compare costs of labor. If their labor costs are significantly lower than that of other high-profile contractors, it could indicate lack of proper insurances or experience. Combine low labor with low material costs and you can bet Bob and the boys are cutting other corners as well.
Red Flag #2: Lack of References
You don't need to hire the oldest painting company in your area for quality work, but you also shouldn't be their first customer. Working with an established painting contractor that has proven to deliver results is the best way to ensure you'll be happy with the work you have done. However, make sure to look beyond the surface level when assessing a company's references.
If you ask the company for references, they will hand-pick their best experiences. Often, reviews online can give a true indication of the quality of their work. However, remember that some customers only leave reviews when something goes wrong. Don't just look at star ratings; pay close attention to the reasons why the customer is leaving a negative review.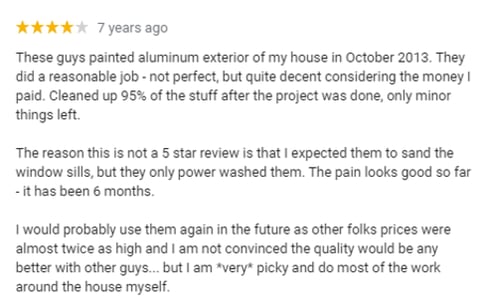 Consider the example above. This looks like a great review for a painting company, but it is only one of two online reviews and is over seven years old. The other review the company received was also five stars, but it lacked detailed feedback. The reviews also highlighted residential work. With that in mind, the above review tells us the company has considerably low rates, they didn't clean up well, and may have cut some corners in finishing. While this reviewer might be picky about things around their home, can your business afford these overlooked details or work with a company who does more residential work than commercial?
Red Flag #3: Vague Contracts
The purpose of a contract is to legally protect both you, your business, and the company you are hiring. The contract should be mutually beneficial, meaning the money you invest in the project yields the same quality of work. The contract should be in clear and easy to understand language. If the language seems "roundabout" or elaborate, ask for clarification. If their explanation still is not clear, ask that they change the verbiage to ensure you fully understand what you are signing. At the very least, a contract should establish who, what, when, where, and how.
A commercial painting contract should:
Clearly state when the work will begin and end.

This includes specific, not vague, timeframes. For example: "Work will take place on site for five days" instead of, "Work will take place within a reasonable timeframe."

Provide a clear schedule of work to be done.

If the project is to take place over a number of days, having a clear idea of what work will be done and when is important for you to plan your business around the crew. This professional courtesy goes both ways.

Outline how to resolve conflicts or missed deadlines.

What if the crew never shows up on the contracted date? Who do you contact and how long does the company have to correct the error? If the work is never completed, how do you get your deposit back? If there is an emergency on your end and you are not able to allow the crew to start work. Are you still required to pay for painting that is not done? Are you able to reschedule the work?

Give a detailed explanation of how the parties both enter into AND get out of the contract.

Entering into a contract is usually upon the mutual signing of the contract but can sometimes include a monetary deposit. Getting out of the contract can be trickier. Is the deposit refunded or is full payment still expected? Is it different for situations of the contractor's fault as opposed to yours? If these details are worked out and clear before entering into a contract, you can better protect yourself from predatory business practices.
You do not need to be a lawyer to negotiate a work contract. If your signature is going on the agreement, be sure you actually agree with the terms you are signing for. If the company you are considering is not willing to negotiate their working contract, this is a good indication they are not a good fit for your painting project.
Red Flag #4: Payment Terms
Your detailed estimate should include the amount and prices for labor and materials. It should also include the payment terms. A company that requires a payment in full before the work is set to begin does not protect you and your business from potential loss. For large industrial and commercial projects, 30% down for the purchase of materials is standard practice. Once the job is complete to your satisfaction, then full payment should be rendered and the contract terms have ended.
ImageWorks Painting proudly holds an A+ rating with the Better Business Bureau. We specialize in commercial and residential projects across Pittsburgh and the surrounding areas. If you are in Pittsburgh or around Western Pennsylvania, and you are considering the many benefits of an exterior commercial paint job, please give the friendly professionals at ImageWorks Painting an opportunity to discuss your project with you and provide a free estimate for your upcoming work.