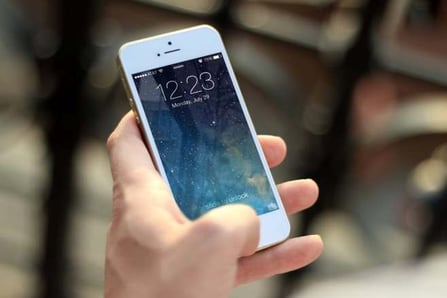 Yes, we want what we want and we want it now.
Don't get me wrong, I like immediate gratification as much as the next guy; but when does our never-ending quest for on-demand results cross the line from efficient to being just a bad idea?
We literally get hundreds of requests for house painting quotes every year from a variety of different places. We saw little change in the expectations of our customers between the period of time when a lot of our leads came from the phone book to the point when it shifted to early online sources, such as Angie's List. Aside from the fact that the average homeowner, as a result of available online information, was more educated about the process than they were 10 years earlier, people still understood that legitimate home improvement contractors needed to schedule an appointment to send an estimator to their home to prepare a professional proposal for the work to be done.
Fast forward to today's online home-improvement-services shopper -- Boy have the expectations changed. Take for instance Yelp.com. I love Yelp and I rely on its reviews almost exclusively as I'm looking for a new restaurant to try when my wife and I are out on a date night. I also use it in conjunction with Angie's List, Google reviews, the Better Business Bureau, etc., etc. when I'm researching various other companies and service providers that I'm interested in doing business with. But standing on the other side of the desk as one of those service providers, the way that the Yelp community interacts with us is very different than what I'm accustomed to after having been in the home services industry for the last 20+ years.
What Has Changed?
I know my readers come to our blog articles looking for actionable steps they can take on their painting projects. I promise I'll get to that in a moment by telling you specifically why you should never accept a house painting quote, or any other kind of home improvement quote over the phone, but first...my rant.
At the risk of sounding like an out-of-touch old man I'll go ahead and say it anyway -- what has changed are the demands of the consumer and the contractors who are willing to accommodate those (sometimes unreasonable) demands. I'm not just a long-time provider of goods and services, I'm also a consumer myself as well as an advocate for other consumers. I believe customers should absolutely have high standards for the level of service that they receive from businesses but I also believe that demanding customers should be called-out when their standards exceed the reach of what any well-intentioned, honorable service provider can meet.
What happens when desperate providers allow the public to completely dictate the way business is done is that it often forces all other providers to follow suit for fear they'll lose their customers. The result is that they all end up overpromising and then underdelivering on results. Even worse is that it opens the door for unscrupulous contractors to agree to the public's unreasonable terms on behalf of the industry as a whole, knowing full well that they can't hold up their end of the bargain, and not really caring as long as they're able to take advantage of the situation and swindle a few unwitting homeowners out of their hard earned money before they're run out of town by an angry mob.
What do I mean by that? Back to my Yelp example: Of the many people who contact us on a regular basis through the Yelp message center, about 1/3 of them expect a quote from us on the spot. They give us on average of about two sentences describing their project, usually something along the lines of: "I need the interior of my 3 bedroom, 2 bath home painted. Home much will it cost and when can you start?" They don't leave any contact information so we can have a real dialog with them to find out the details about their project or to set an appointment to take a look at it, only the ability to submit a brief response asking if we can learn more about the job so we can provide them with an accurate bid. In almost all of these cases after we ask for additional information we either never hear back from them again, or when we do they say that XYZ Painting gave them a quote over the message center so they hired them sight unseen.
I don't blame the homeowners though, I blame the kind of service providers I described who have created the environment that allows such an important buying process for the homeowner to be reduced to the kind of overly-simplified transaction you might hear if someone were buying a pack of gum from a clerk at the convenient store.
I'm not here with a master plan to fix a broken system, I'm just here to acknowledge that there's a real problem -- both for the legitimate contractor who's unable to compete with the promises of desperate painters and con artists, as well as for the homeowner who takes house painting quotes and hires a company over the phone.
Why You Shouldn't Hire Quickly (Especially Over The Phone)
There's an old saying in the Human Resources world that goes: "Hire Slowly, Fire Quickly" -- meaning that you should take your time to be sure you're hiring the right employee, but if you end up with a bad one you shouldn't waste any time in replacing them. I believe this should also be the case for homeowners. Here are just a few of the more important reasons why you should never hastily hire a painter:
Bid Accuracy - As I explained in my blog article How Much Do House Painters Charge? there are four main methods that contractors use to arrive at a bid price for their customers. Only two of them (the Market Pricing Method and the Floor Square Footage Pricing Method) could be achieved over the phone, but neither of those two are capable of producing an accurate bid. Only the Labor Pricing and Unit Pricing Methods are a reliable means of estimating work to be done and they both need to be performed by a trained estimator in-person.
Professionalism & Temperament - Even if a company reviews well online, the only way to get a true feel for their professionalism and temperament is to meet them face-to-face and interview your candidates. After all, these people are going to be working in and on your home for a period of time so you'd much rather learn that you find them to be disagreeable or lacking in punctuality before you hire them, not in the middle of the job.
I can't even begin to tell you how many times an applicant for employment at our company looked great on paper but after we met them once in-person we knew that they were not the right fit to be working for us. Your situation is no different.
Appropriate Pricing - Without getting at least 2-3 professional bids on your project you have no way of knowing if you're paying too much for services, or if the services were grossly underbid because the estimator missed something during his assessment of the job.
Understanding Their Process - Assuming you've educated yourself on the general guidelines that a painting contractor should follow, it's incredibly important to have a conversation with your potential candidates to see if they're following a solid process so there are no surprises waiting for you.
How Should You Hire A Painter?
Now that we've discussed what not to do and why, let's talk about how you should go about finding and contracting with a great painting company.
Locate & Research - First things first, use trustworthy sources like Angie's List, Google Reviews, Yelp, and the Better Business Bureau to find reputable painters in your area that are well-established and have great reviews.
Setup An Estimate - I know people don't want to be "sold" by some salesman that shows up at their house, but legitimate companies conduct business by sending a trained estimator to look at your project and review the details of the job with you before they can provide you with an accurate bid price. DON'T SKIP THIS STEP by trying to give them some quick info over the phone in exchange for a price.
Interview Your Candidates - No matter how good their reviews appear to be, you shouldn't trust that they are the best fit for you or your painting project without first asking questions about their qualifications and their process. Download this list of interview questions you can use when you meet them in person for the first time.
Sign A Contract w/ An Attached Scope of Work To Be Performed - Protect yourself by requiring a job contract be signed between yourself and the painting company. The terms of the contract should outline things like: start and finish dates, job price, and the scope of work to be performed -- to name a few.
Don't Hold Up The Process - Prepare for the project by organizing yourself with a list of things you need to do, like checking references, making your color selections, clearing the workspace prior to the painters arriving on the first day, and so on. Download this handy Painting Project Checklist that you can use to stay on track with everything that needs to be completed on your end.
Don't be one of those unfortunate souls who makes the mistake of hiring a painting contractor (or any other kind of contractor) over the telephone. No reputable company should be doing business this way, so if you happen to talk to anyone who is all-to-happy to give you a phone quote...run the other way. Protect yourself, your money, and your home by following these few simple steps and doing your due diligence. It will pay dividends at the end of the project.
If you live in the Greater Tampa, Fl area and would like some assistance with your house painting project please give us a call at (813) 570-8800, visit our Contact Us page, or click on the button below to request your free, no-obligation consultation and quote.
photo by: Tayloright / CC BY 2.0
Leave Us a Comment
Contact the Pros
Ready to get started with your next painting project but unsure if it is in your budget? Reach out to the expert painting team at ImageWorks Painting to schedule a free consultation today. Give us a call at 813-570-8800 (Tampa) or 724-898-2446 (Pittsburgh), or request a visit online.