If you've never had your home professionally painted before, collecting house painting quotes can be a bit overwhelming. There are so many corners that can be -- and often are -- cut by painters. But it's hard to know whether a painter is going to do a good job unless you know what a good exterior paint job consists of.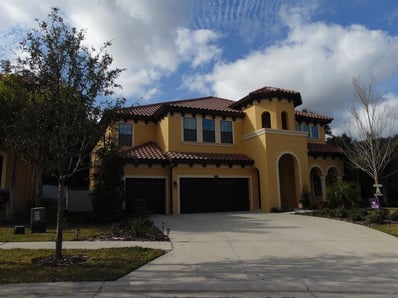 The tricky thing about exterior painting is that homes are clad in a variety of materials (i.e. stucco, wood, vinyl, aluminum, cement-fiber, etc.) with each one posing its own set of unique problems and challenges. In this article, we'll teach you how these materials should be prepared and painted so you'll know what steps every painting contractor should be following, and in what particular order.
Pre-Paint Cleaning
No matter which kind of siding your home has, it has to be cleaned before it can be painted. Most painting contractors will use a high-pressure wash method of cleaning the siding because it does an excellent job, makes quick work of cleaning, and helps to remove peeling paint.
But don't be afraid to question your potential painting contractors about their experience level with using a pressure washer. Make sure they intend to use a high-quality pre-paint cleaning detergent, and possibly a bleach-type product if necessary, rather than just water alone. By itself, water cannot remove heavy layers of grime, and it certainly can't remove mold, mildew, or algae.
If you have siding with areas of bare wood exposed, an inexperienced/untrained pressure washer operator can do more harm than good by damaging the surface or injecting water into the grain. If you have serious concerns about their ability, either hire someone else who instills more confidence or request that they do a manual cleaning instead. But be aware that hand cleaning requires more time and labor, which equals more money.
Pre-Paint Prep
Scraping & Sanding - After they've allowed a few days for the surface to dry, the next step will be for them to scrape the remaining loose paint from the surface so that there are no loose edges that can start to peel again. This should be followed up by feather-sanding the edges of the peeled coating to minimize the appearance of the transition in thickness from the existing coating to the bare substrate, which will give your painting project a better-finished look.
Priming - The bare areas of many substrates will need to be spot-primed with the appropriate product before they can be painted. If your contractor paints directly over...say, bare wood...you can expect that those areas will be peeling again soon. There are some exceptions to this rule, such as when they are using a primer/paint product that's meant to be used in that specific manner. Although these products seem to be geared more toward the DIY customer, most contractors opt for separate primer and finish products.
Other jobs may even require a full prime coat. One such instance is when coating over an old oil-based coating with acrylic latex. Oil paints can be quite difficult to re-coat because other finishes don't tend to stick well to them, even when the old film has been sanded. A sure way to tell if a full prime coat will be needed is by first applying a test patch of paint and performing an adhesion test to see if it's going to stick.
To perform an adhesion test:
Apply the new paint to a few small areas (12" x 12" or so) on different sides of the home, then allow it to dry for a few days.
Take a break-away razor knife or a utility knife with a sharp blade and score the surface of the newly-applied paint in a checkerboard pattern (like you're playing tic-tac-toe), and also with some X's so that the lines intersect at sharp angles. Make sure you use firm enough pressure that your scored lines penetrate the new coating and into the previous coating.
Take some good-quality clear packing tape and apply the tape over the top of the scored areas. Use your hand to apply firm pressure to the tape to make sure it is well-adhered to the surface. Grab a corner of the tape and peel it off of the surface at a sharp angle.
If you have only a very small amount of paint film on the tape then you should have good enough adhesion to paint, but if anything more than a very small amount of paint film comes off onto the tape then you do not.
If the adhesion test fails then you will need to go with a full prime of the house prior to painting.
Caulking - The last step before putting on the paint is for them to apply high-quality caulking to all of the butt joints in the siding, areas where siding meets trim work, and basically any cracks other than your horizontal lap joints where each row of clapboard siding overlaps the last. Do yourself a favor and don't let them tell you that all caulking is the same, as this is often an area of importance that's overlooked. Higher quality caulking may cost you a little more money than the painter's-grade stuff, but it's well worth it given that caulking is commonly one of the first places where a paint job begins to fail over time.
Painting
The Products - The longevity of any painting project is really predicated on how thoroughly the house is prepared before it's painted. But that doesn't mean you should let your contractor skimp on the quality of the paint that they use. There is some debate about whether lifetime guarantee paints are worth the extra price, but you should probably expect to pay at least $30-$40 for a gallon of high quality 100% acrylic latex paint (such as Sherwin-Williams' SuperPaint or Pittsburgh Paints' Manor Hall). In most cases, your contractor will supply their own paint, but you should find out exactly which product they're using.
There are contractors out there who will try to convince you that they can save you money by only applying one coat of paint. There are even paints on the market now that claim to be one-coat-coverage products. What makes these products different is that they can be applied at double the thickness of regular paints without running down the side of the house. However, there are VERY few painters who are experienced enough with this new technology that they can apply them correctly. More often than not they will simply paint your house with them the same as they would with a regular coat of paint -- which doesn't benefit you at all. In fact, it will shorten the life of your paint job. You're better off just opting for good quality paint and requesting that two full coats be applied.
The Method - The method your painter uses to apply the coating is not so important as long as they're doing it correctly. Some professionals will prefer the tried-and-true brush and roll method, while others prefer to speed things up by using an airless paint sprayer. Cautious homeowners will tend to get spooked at times when they learn that their painter is going to be spray painting their home. But as long as the surrounding areas have been properly protected, in the hands of an expert, a sprayer can be the preferred method of application in certain situations. The bottom line is that -- as long as you trust them -- you're paying them for their expertise so let them earn their money by doing the job in the best way they see fit.
Cleanup
A lot of folks don't think about this part of the job when they're collecting bids. But it's not uncustomary to ask your pool of potential contractors what their cleanup procedure is -- both daily cleanup and end-of-job cleanup. Pressure washing and scraping can create quite a mess with paint chips falling like snowflakes. As can paint drips and spatters. Just be sure your painter has a plan in place for leaving your property in better shape than they found it.
Maybe the most important tip of all to gathering house painting quotes is to be discerning when choosing which contractors you allow to give you a bid. This can't be emphasized enough. If you're only dealing with reputable contractors from the beginning, it will give you the peace of mind that you're not going to have to end up becoming a babysitter to whomever you choose to do the work. Then take it even a step further by making sure they're willing to put it in writing by utilizing a Job Contract.
If you're located in the Greater Tampa, FL area and would like to receive a free, no-obligation consultation and quote on your next painting or staining project please feel free to reach out to us by visiting our Contact Us page or by calling 813-570-8800.
And please also check out our free 'How To Choose A Painting Contractor' guide below.
Contact the Pros
Ready to get started with your next painting project but unsure if it is in your budget? Reach out to the expert painting team at ImageWorks Painting to schedule a free consultation today. Give us a call at 813-570-8800 (Tampa) or 724-898-2446 (Pittsburgh), or request a visit online.